Office Dry Cleaning = A Real Staff Benefit, at no cost to you.
We provide offices with a high quality dry cleaning & alterations service, directly in your office. Cleaning Angel provide a office dry cleaning service to many different companies across the city. We provide 3 types of service:
We visit your offices on two agreed days each week and set up a counter somewhere in you building, pre-agreed with you.  For example, we can set up in your staff restaurant, beside your post room etc.  Our staff member will stay on site for typically an hour and will collect all your staff's garments.  Our staff member will be able to advise your staff on any laundry & dry cleaning matters, for example stain removal, clothing alterations or repairs.  We then deliver your staffs garments back to them on our next visit.  We charge your staff member directly on collection and as all our income is declared for VAT and income, we have no issues with accepting credit & debit cards as well as cash.  Depending on the number of garments received, your staff will get 10% – 20% discount from our usual retail prices.
Staff drop their garments with whoever you choose, for example your reception, post room or restaurant/cafe staff.   We collect all garments twice a week (or more depending on volumes) and deliver them back to you typically on our next visit.  You charge your staff whatever amount you wish – this is an opportunity for either the restaurant, shop or cafe to get some extra income, or for you to subsidise the costs for your staff.  We invoice you directly for all garments cleaned on a monthly basis.  The prices charged will reflect a pre-agreed discount off our usual retail prices of between 20% and 50%, depending on the amount of garments received.
We collect and deliver on a 'as-needed' basis. This is typically done where there is a lowish demand for dry cleaning and there is no discount for staff, however the collection & delivery is done complimentary.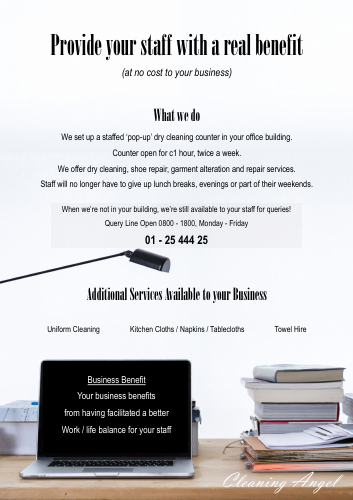 Important to note:
Cleaning Angel is one of the few Dry Cleaners in Dublin city which is fully regulated and approved. Many of the current providers of dry cleaning to offices in Dublin today are running an illegal operation, not open to mandatory inspections, compliance with regulations, running serious environmental problems & risks.  This is a serious offence punishable by both a large fine and up to 6 months imprisonment.  Often these operators also have many other hidden questionable business, insurance and tax practises.  Cleaning Angel is committed to conducting business according to all laws and regulations.  We simply seek a level playing field.
As a simple first check, check that your supplier's compliance certificate is up to date on the following list, if they are not on this list at all, then they should in no way be providing you with dry cleaning services:  https://www.dublincity.ie/sites/default/files/content/WaterWasteEnvironment/AirQualityMonitoringandNoiseControl/AirPollution/Documents/List%20of%20Dry%20Cleaners%20for%20Web%2008-%2004-%2019.pdf
About Us:
Cleaning Angel are Specialist Dry Cleaners, providing dry cleaning services to Dublin since 1974.  We are a good team who take real pride in providing a very good quality service to our customers.  Cleaning Angel is one of Dublin's larger dry cleaning businesses serving retail, commercial and wholesale markets. 
Our Compliance:
We are fully insured with a combined insurance policy. Our full insurance policy is available for your inspection. 
We are in full compliance and fully up to date with all inspections – environmental, machinery, pressure vessels, fire, electrical, safety etc. 
We are properly registered and regulated and operate in accordance with all appropriate European & Irish laws and regulations.