Cleaning Angel – The Wedding Dress Specialists
Based in Hart's Corner, Glasnevin, we believe that we are Ireland's best wedding dress cleaners.  We mostly clean dresses in Dublin, Kildare, Meath and Wicklow, where we provide free collection & delivery.  We also do wedding dress cleaning for customer across many other counties on a regular basis, including Carlow, Wexford, Laois, Westmeath, Offaly and Louth so contact us where ever you are based! 
1.

Is it a good idea to get my wedding dress cleaned?

Yes, definitely.

Ideally, we recommend that you get your wedding dress cleaned as soon after your wedding as is practicable to ensure best possible results. The sooner stains are treated the higher the likelihood that they will be fully removed. Left on garments for an extended period of time, stains can become embedded in the threads of the fabric meaning that they are more difficult, and sometimes impossible, to remove without damaging the fabric.

That said we have cleaned dresses many years after they were worn and the results have been fantastic so definitely worth doing.

Irrespective as to whether you plan to keep your wedding dress for posterity, sell it on or have it made into a christening gown or communion dress, pressing and cleaning wedding gowns is always a good idea.

2.

How much does it cost to get your wedding dress cleaned?

Get a quick quote using our on line Wedding Dress Cleaning Price Calculator – it's simple to use & will give you an instant quote.

You just need to tell us about your dress by answering 4 simple questions :

Type of Material – Silk & Raw Silk cost a little extra as they are difficult fabrics to clean and hence take more time

Number of Layers of fabric – the more layers the more time it takes to pre-treat your wedding dress before it's cleaned. Every inch of fabric is inspected and all stains / marks found are treated to get the best possible results

Train – 4 options to choose from here

Dress Does Not Touch the Ground i.e. your dress is not full length and hence the bottom of the dress is unlikely to be badly soiled
Dress Touches the Ground but it doesn't have a train
Trailing Train – Train on your dress is up to 1' long
Long Train – train on your dress is longer than a 1' long

In general the longer the train the more work there is involved in cleaning your dress, hence it's slightly more expensive

Trains can be badly soiled, particularly where you have been outdoors having photos taken or have hit the dance floor!!!  We consider it to be the sign of a good day !!!

Embellishments

Does your dress have pearls / beads , crystals / diamonds or other embellishments e.g. a brooch or other adornment ? These are typically found on the bodice of wedding dresses or around the arms or waistband.

Extra care is required when cleaning wedding dresses with embellishments to ensure they do not damage the dress while it's being cleaned. If we have any concerns and the embellishment can be removed it will be taken to our specialist alterations partner, removed prior to cleaning and then re-attached once your dress has been cleaned. This will be done at the discretion of our specialist dry cleaner at no extra cost to you.

Taking great care of your precious wedding dress is always our top priority and we'll make every effort we can to ensure best possible results.

Your quote includes the following:

Cleaning & pressing your wedding veil
Cleaning & pressing a bolero jacket
Free collection & delivery if you are based in Dublin, Kildare, Meath or Wicklow. We do provide a collection & delivery service elsewhere in Ireland for a modest additional cost – please contact us to find out more

If you have a separate underskirt or overskirt there is an extra cost for cleaning these – typically €30 - €50 depending on the amount of fabric, etc

3.

My wedding dress has a solid adornment on it. Can you clean it?

Yes we can.

If we feel that it would be safer to have the adornment removed before your wedding dress is cleaned we'll arrange to have this done by our specialist alterations partner. This decision will be made by our wedding dress cleaning specialist, who has over 35 years experience cleaning wedding dresses. If we do remove the adornment we'll arrange to have it re-attached once your wedding dress has been cleaned so it will be returned to you as we received it, just freshly cleaned & pressed.

This will be done at no extra cost to you. We always prefer to go to extra trouble rather than risk damaging your precious wedding dress.

4.

How Do I Arrange to Have my wedding Dress Collected for Cleaning ?

There are a few options here

Ring us on 01 25 44 222 and have a chat with us. We'll be delighted to answer any questions you might have and we'll also arrange a date and time to collect your dress that works for you
Indicate a preferred Collection Date when using our online Wedding Dress Cleaning Price Calculator and we'll contact you to get your full address and agree the collection date and time

E-mail us on [email protected] and we'll get back to you within a couple of hours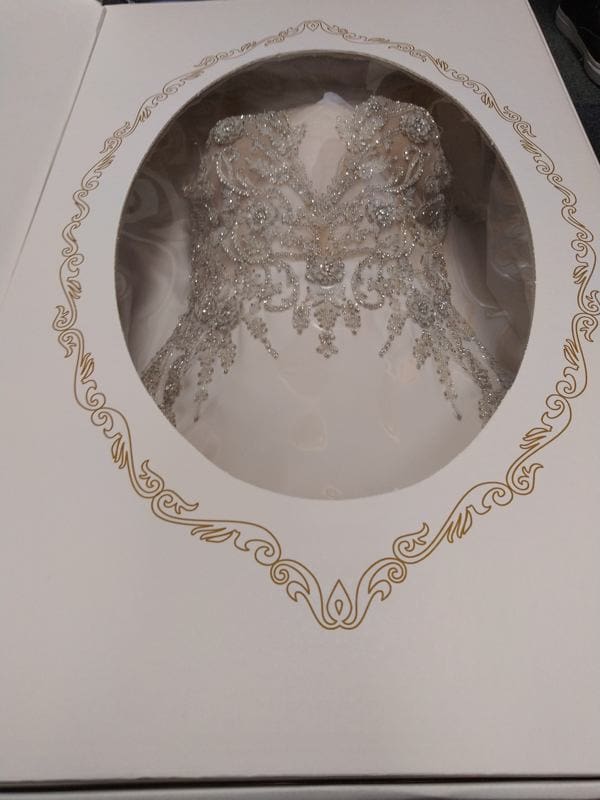 Some Wedding Dress Customer Reviews
Fantastic Service!
"Fantastic service, Fidelma and Sean were so accommodating. My dress came back like new."
October 2021
S Mooney
Dublin
You went Over & Above
"Hi Fidelma & team, I am extremely happy with your very professional service. I contacted you to arrange the cleaning of my daughter's wedding dress. You went over & above with your collection & delivery service. The dress is like new & it was delivered in a beautiful presentation box.
Thank you again, I would most certainly recommend your brilliant service."
November 2021
R Schlindwein
Skerries, Dublin
The sheer delight, tears of joy and expression on her face …
"I dropped my wife's wedding dress off to get dry-cleaned and specially boxed for our 9 year wedding anniversary.
Needless to say, the sheer delight, tears of joy and expression on her face when she not only set eyes on the beautiful handcrafted box the dress came presented in, but saw the pristine state of her dress, was testament to the quality, presentation, attentiveness, and care that Cleaning Angel took with it.
The entire process from start to finish was easy and stress free. Fidelma was absolutely lovely and took the time to discuss the best options available to realistically suit my needs and worked diligently to help expedite my order.
Head dry cleaner Paul is a miracle worker as far as I'm concerned and a master of his craft, as the dress was practically like new and as white as the day my wife walked down the aisle.
Meanwhile the entire Cleaning Angel staff could not have been more accommodating, courteous and helpful.
Based on price, quality, experience, attention to detail, customer service and craftsmanship, I would highly recommend Cleaning Angel to anyone looking for a great dry-cleaning service that can pay the regard, respect and TLC their most precious delicates deserve."
September 2021.
C Rodriguez
Dublin
Brilliant service!
"Brilliant service, collected dress, suits and mother of the bride outfits and delivered back everything in 6 weeks."
October 2021
M O'Connell
Meath
Absolutely amazing 😁
"Absolutely amazing 😁 came picked my dress up from my home when it came back I couldn't believe how new it looked so new I was able to see it on to another bride . Would highly recommend this service."
October 2021
C Lalor
Dublin
I was Blown Away with the Results!
"I had my wedding dress cleaned prior to my wedding as a paper cut when unpacking my dress caused havoc. After 3 weeks and lots of reassurance from Fidelma, I was blown away with the results. It was a no brainer to get my dress cleaned with Cleaning Angel again after my wedding, I opted to get it boxed and packed and am once again thrilled with the results."
September 2021
H Wylie
Kildare
So Lovely to Deal with and so Helpful
"I had my wedding dress cleaned and my husbands suit cleaned with the Cleaning Angel, they were so lovely to deal with and so helpful. Everything was perfect and so well presented. Would highly recommend for any cleaning."
December 2021
L Sheridan
Meath
Making Things so Easy!
" Thanks a mill for all your help with the dress, and for making things so easy "
October 2021.
Sue S
Milltown, Dublin.
Want to wear it again!!
" Thanks so much for the beautiful job you did on my dress.  It looks perfect.  Want to wear it again!! "
October 2021.
Alison H
Ashbourne, Meath.
What an amazing job and such beautiful boxes too!
" Thank you so much for the dresses.  What an amazing job and such beautiful boxes too. My mum couldn't get over the dresses either!"
October 2021
Emma R & Leighanne T
Artane, Dublin
Broken-hearted after accidentally spilling red wine … they successfully removed it!
" Y'all. I can't praise this place highly enough. I was pretty broken-hearted after accidentally spilling red wine on my beautiful new wedding dress a few weeks ago (don't drink and dance, brides!). Sean and Fidelma were so kind to me when I came in, they collected it from my home straightaway and although they couldn't guarantee that they would be able to get the stain out, they reassured me that they would do their best. I was overjoyed to get a phone call from Fidelma earlier this week to tell me that they'd successfully removed the stain. Fantastic service and lovely people – highly recommended. Thank you, Cleaning Angel! xo "
October 2021
M B Taylor
Drumcondra, Dublin
It came back Perfectly Cleaned, Beautifully Presented and Boxed!
" I had my wedding dress cleaned and they were amazing. It came back perfectly cleaned, beautifully presented and boxed. Fidelma engaged with me on several occasions to organise the collection and return of the dress. She was at all times accommodating and very friendly. The service was second to none. I highly and without hesitation, recommend Cleaning Angel, that's exactly what they are! "
Saundra B
Kildare Town, Kildare.
Honesty and Integrity was So Appreciated!
" I used cleaning angel to clean and box my wedding dress. The responsiveness to my emails and the options available to me were fantastic. They came to my house to pick up my dress and also delivered it back to me. They even told me that my dress could fit in a box that was less expensive than the one I had chosen, so that honesty and integrity was so appreciated. They did a fabulous job and were extremely kind and professional throughout the process. I would highly recommend. "
November 2021.
Trisha C
Ashtown, Dublin
Great Job on the Dress!
" Great job on the dress, looks like new! "
November 2021.
Claire K
Naas, Co. Kildare
The Box is Perfect
" Many thanks to yourself and Sean for looking after the wedding dress and suit so wonderfully.  The box is perfect, and so lovely to be able to see the dress! "
Ruth & Peter J
Roundwood, Co. Wicklow.
OMG it's So Beautiful!
" OMG it's so beautiful!  Thank you so much. Its been a pleasure and I'll highly recommend you to everyone "
November 2021
Kim O'C
Ballinteer, Dublin.
Delighted with my Wedding Dress
" Delighted with my wedding dress.  Great Service. "
November 2021.
Aideen M
Shankill, Co. Dublin.
Wow it is Amazing!
" I received my dress, wow it is amazing, so beautifully clean and I can't get over how beautifully boxed it is!  So glad that it is done now and thank you so much service was fantasic "
November 2021
Louise McK
Navan, Co. Meath.
A Huge Thank You
"Just wanted to say a Huge Thank You for looking after my dress.  It's presented so lovely and the box is super.  Really appreciate everything and all your kindness."
November 2021
Aisling K
Co. Louth.
Honestly, I can not praise this experience enough
" Absolutely will be recommending you to anyone who wants fantastic service. First of all, after submitting the form online you actually called me and made a genuine effort to know how to pronounce my name which was greatly appreciated. Fidelma was also very reassuring and put me at ease when it came to making a decision after I had looked into a few different places. I never had to go looking for updates, they were always given readily.
My dress was returned in a fabulous box. The grooms suit looks as if it just came from the tailors, perfect condition. I loved that Fidelma suggested a smaller size because of the material and listened to how I intended to store it so I could make a decision on having a window or not. She could have tried to upsell me like others tried to do so yet she didn't. Even when I called to settle the account they knew who was supposed to call ana again even that person made an effort with my name.
Honestly, I can not praise this experience enough. You will get my business again in the future.
Ye truly are angels. "
February 2021.
Tendai M
Bettystown, Co. Meath
It looks absolutely stunning!
" Hello, I received my wedding dress back and it looks absolutely stunning, thank you for your amazing work.
I will certainly recommend you to all my friends who want to have their dresses cleaned and packed.
Thank you so much and best wishes. "
February 2021.
Diana B
Palmerstown
To say I am thrilled with the result would be an understatement
" 10 years after my wedding, I finally decided to get my dress cleaned. Fidelma made the process so easy by collecting and delivering the dress. I received it back today and to say I am thrilled with the result would be an understatement. The presentation box is gorgeous and the dress is like brand new. They did such a wonderful job and I would have no hesitation in recommending them. "
January 2021
Anne Marie G
Wicklow
Great Customer Service, Knowledgeable and Helpful !
" Had a great experience with Cleaning Angel and can highly recommend them to look after a wedding dress! Great customer service, knowledgeable and helpful staff. My dress was returned to me in a beautiful presentation box. "
December 2020
Linda G
Drumcondra
Couldn't be Happier with the Result
" I had my wedding dress and veil cleaned by Cleaning Angel. This was all arranged during the pandemic and they both collected and dropped off my dress for me, which was really helpful. My dress is now absolutely perfect and couldn't be happier with the result. I had also forgotten to put my veil in the dress bag and didn't realise for a few weeks and they were happy for me to drop that into them, even though they had already started my dress. Communication was excellent throughout. I would highly recommend Cleaning Angel and will definitely use again. "
August 2020
Nikki O'R
Dublin
The service was exceptional !
" The service was exceptional. My dress was collected and dropped back to me when finished. You could tell that the staff knew that my dress was special to me and treated it with the utmost care. All stains were removed and I love the way it was boxed up. "
July 2020
Sarah K
Harold's Cross
Highly Recommend !
" Excellent service. Dress was collected and returned. Beautifully presented in a box for safe keeping. Fidelma explained clearly the process and costs so there were no surprises. Highly recommend. "
July 2020
Aisling O'C
Kildare
Really Happy !
" Excellent service. I am really happy with how my dress has turned out. "
June 2020
Niamh M
Rathfarnham
Would Recommend to a Friend !
" Delighted with the results. Would totally trust cleaning angel and would recommend to a friend "
March 2020
Tara H
Malahide
Gleaming White Again !
" Dress went from dusty dirty and covered in sand to absolutely perfect and gleaming white again.
Beautifully cleaned and boxed for storage. "
March 2020
Amanda McL
Clonee
Really Good Value for Money !
" Excellent service, dress was picked up and delivered which was great for me as I work fulltime. I had left the dress for a few years before having it cleaned and the results were truly amazing. Really good value for money, I would highly recommend this company. "
December 2019
Therese N
Lucan
Absolutely Delighted with the Whole Service !
" Absolutely delighted with the whole service, my dress was promptly picked up a few days after I made an appointment and was delivered back to my home in it beautiful new box, couldnt have asked for a better service from start to finish it was so easy and no stress at all! "
November 2019
Sarah M
Dublin 24