How it works
We take pride in our wedding gown cleaning collection service. If you live in Dublin, Kildare, Meath or Wicklow, we only use our own staff drivers to collect & deliver throughout for Free.
We now have a courier to provide a service throughout the rest of Ireland (more information below)
Step 1:    Call us on 01 25 44 222.  We will take some details, discuss timeframes and costs with you and answer any questions you may have.
Step 2:    Our collection & delivery co-ordinator, Fidelma, will then ring you to arrange your wedding dress cleaning collection.  We always make sure to find a day, location and time window that will suit you best – you can get it collected at home or work.  Whilst we always will work with you on a an expected timeframe for both collection and delivery, please be conscious that we have several collections & deliveries each day in many different places and traffic can have a major impact on us.  We'll always ring you if we are having trouble getting to you within the timeframe discussed. 
Step 3:    On collection, we seek a deposit of c50% of the quoted price. 
Step 4:    On receiving your wedding gown, Cleaning Angel will check your quote against the dress to ensure accuracy.  In the rare scenario that the quote calculator has misquoted, we will ring you to confirm any price changes before we proceed with cleaning your wedding dress.
Step 5:    It typically takes 4-5 weeks to to clean and press your wedding dress.  However, if your wedding is happening sooner or you need time to get your dress altered, don't worry – mention this to us and we will prioritise your gown to make sure it will be ready in time.
Step 6:    Once finished, your freshly cleaned and wonderfully pressed dress will be delivered back to you on the agreed day.  The balance of the payment is due on delivery.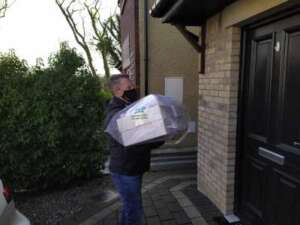 We now offer a courier for all areas that the Cleaning Angel Van does not cover (see areas below).
The courier costs €20 each way, allowing you to choose to courier your dress to us and then collect it from us yourself.
After a discussion with you, we will arrange for a suitable day for your dress to be collected or delivered. We will arrange this with the courier. You must package your dress as outlined below. The driver will print a label to put on to the box containing your dress.
How to package your dress for the courier:
Place your dress into a heavy duty plastic bag, such as a heavy duty refuse sack. Then place this bag into a cardboard box. Put our name and address on the box clearly:
Cleaning Angel
14 Prospect Road
Glasnevin
D09 T279
When using a courier, we also offer an optional courier insurance to place your mind at rest. You can find more information on this on our courier insurance page.
Wedding Dress Dry Cleaning Collection Service
As Ireland's leading wedding gown cleaning service, we are very particular about your dress.  This starts at the very beginning of our service, when we collect your wedding dress.  In fact, we prefer to use our own drivers to collect your dress.  Yes, this may cost us a bit more than simply using a courier or An Post, but it means that we make sure that your dress is looked after from the very beginning and that there is no chance that your dress will be lost or damaged in transit. We provide our wedding dress cleaning collection service across Dublin, Kildare, Meath & Wicklow for free, however we also go farther afield – we can collect and deliver your dress in parts or all of Carlow, Laois, Louth, Monaghan, Westmeath, Longford, Offaly, Kildare and Tipperary.  Call us on 01 25 44 222 to talk through the details of this.  If you have someone travelling to Dublin, we can also facilitate a drop in our shop and then we deliver the dress back to you.  
As we specialise in cleaning wedding gowns, we take our time to examine and plan the cleaning process for your dress.  We will examine your dress in detail and spot clean each stain individually with special solvents.  The the dress is cleaned and re-examined.  Once we're happy that we have the best results possible with your gown, we will press each layer of your gown to ensure best results.
At this stage we will contact you again to agree our delivery time & day with you. Our aim is to make our wedding dress cleaning collection service as straightforward and simple for you as possible.    
Wedding Dress Cleaning Collection and Delivery Areas & Prices
Price for Wedding Dress Dry Cleaning Collection service in the following areas:
FREE  Zone 1: County Dublin, County Kildare, County Meath, County Wicklow
Cleaning Angel Van – Collections & Deliveries:  Fees (see Eircodes below): County Carlow, County Laois, County Louth, County Monaghan, County Westmeath, County Longford, County Offaly, County Kilkenny, County Tipperary,
€15 each way: Eircodes starting – A92, R32, R45, R93.
€30 each way: Eircodes starting – A75, A81, A91, E41, E53, N37, N39, N91, R21, R35, R42, R95, Y21, Y25. 
€20 each way: Nationwide Courier – Optional Courier Insurance is also available.